Regularly cleaning your roof will help improve the overall appearance of your home.
If you neglect to clean your roof, it can lead to several problems such as reduced curb appeal, potential damage to your home, and increased energy costs. A dirty roof can also pose health risks if mold or algae grow on it.
If you don't take steps to clean your roof, you may end up with clogged gutters, water damage, and increased cooling costs in the summer. Algae and moss growth can also cause shingles to lift, leading to leaks and costly repairs. Additionally, the presence of mold and algae can pose a health risk for you and your family, especially if it enters your home's air supply.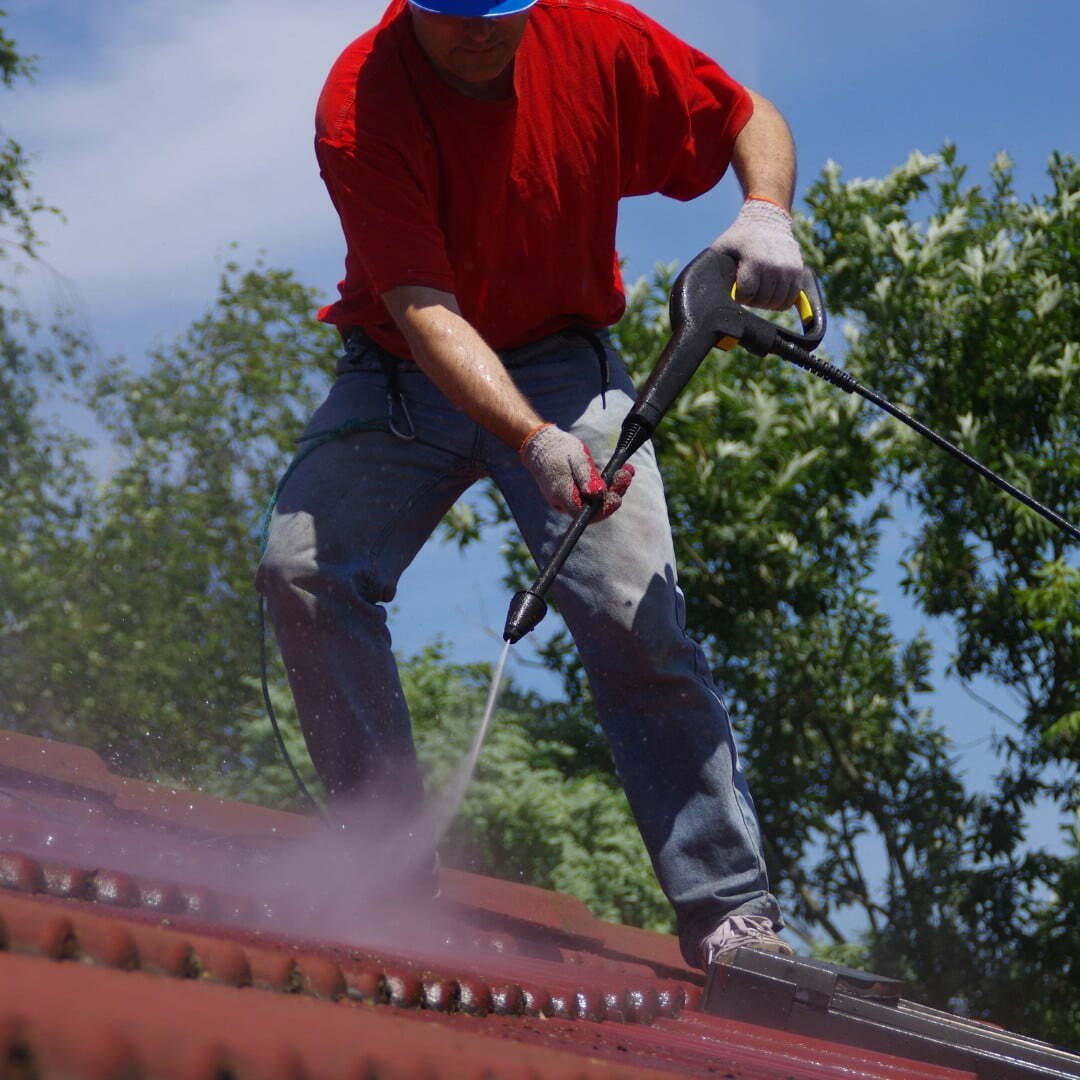 Not cleaning your roof can bring you problems
The best way to avoid these problems is to regularly clean your roof. By doing so, you can improve the appearance of your home, prevent damage, and save on energy costs. You can also extend the lifespan of your roof, preventing the need for costly repairs or replacement. To ensure that your roof is cleaned properly, consider hiring a professional roof cleaning service, or using a pressure washer to remove dirt and debris. Additionally, you can install zinc or copper strips to prevent algae growth and invest in gutter guards to prevent clogs. By taking these steps, you can ensure that your roof stays clean and free of potential problems.
Five benefits cleaning your roof periodically
Prevent Damage
A dirty roof can also lead to damage over time. Debris such as leaves and twigs can clog gutters, causing water to back up and potentially leak into your home. Algae and moss can also grow on your roof, causing shingles to lift and allowing water to penetrate.
Energy Efficiency
A dirty roof can also affect the energy efficiency of your home. Debris and algae can block sunlight from reaching solar panels or solar shingles, reducing their effectiveness. Additionally, a dirty roof can absorb more heat from the sun, leading to higher cooling costs in the summer..
Extend Roof Life
Regularly cleaning your roof can help extend its lifespan. Dirt and debris can cause shingles to deteriorate faster, leading to the need for expensive repairs or replacement. By keeping your roof clean, you can help prevent damage and ensure it lasts longer.
Health Concerns
A dirty roof can also lead to health concerns. Algae and mold can grow on your roof, which can be harmful to your health if it enters your home's air supply. By keeping your roof clean, you can help prevent these health risks.
Insurance Requirements
Many insurance companies require homeowners to maintain their roofs in order to maintain coverage. Failure to clean your roof regularly could result in denial of claims or even cancellation of your policy.
Increase Property Value
A clean and well-maintained roof can increase the overall value of your property. If you're planning to sell your home in the future, a clean roof can help attract potential buyers and increase the resale value of your home.
Milena Twaites
2022-10-20
Quedamos muy satisfechos con el trabajo realizado en nuestra casa
We're so glad that we chose Javal Painting to paint our home's exterior! They were communicative and professional from start to finish. The team worked incredibly hard and did an amazing job. The price was competitive and they made sure we were completely happy. Thank you for our home's new look, Javal Painting!
Michael Alvine
2022-10-05
This is the second time I have used Javal Painting. It is an excellent company and they do a great job. The first time I hired them was to paint the exterior of a small house I have. Jose Alberto did a top-notch job. Very neat and trimmed just right. This time I needed the woodwork redone on my residence. Jose Alberto varnished all the surfaces high and low. My wood is now protected for some time to come. I highly recommend Javal!
Great company. They showed up on time- did a lot of prep- did a great job and then cleaned up after themselves. Can't beat that. Would definitely use them again.
Maridee Garvey
2022-09-09
Javal Painting, Alberto, Jose and Ray were all a pleasure to work with. Reliable, on time, honest, and a very fair price for a lot of hard work painting the exterior of my 1928 house. I would definitely hire them again.
Great Painting Company, they where very easy to work with.
Javel Painting has just wrapped up painting our house and detached garage and they are beautiful. This has been a most positive experience. The owner and his crew were great to work with. They were responsive to our needs. They were timely and the quality of work was great. Communication was good. We will use them again. Thank you Javel Painting for your great work.
Did I tell you about our

THREE YEARS

satisfaction guarantee?
At Javal Painting LLC, we understand that owning a property, whether it's a home or business, is a significant achievement that represents years of hard work and dedication.
That's why we're committed to helping you maintain and enhance the value of your most prized asset by giving it the top-quality paint job it deserves. Our expert team knows that paint is more than just color on walls and ceilings—it sets the tone, creates ambiance, and can make your property look stunning.
We take pride in delivering superior results, ensuring that every job is completed to your satisfaction. With Javal Painting LLC you can trust that your property is in good hands.
Call us right now to schedule an estimate for your project, your real estate needs an image upgrade, and there is no better time to do it.
If you prefer,
call me
righ now!